9 Best Radish Recipes – NDTV Food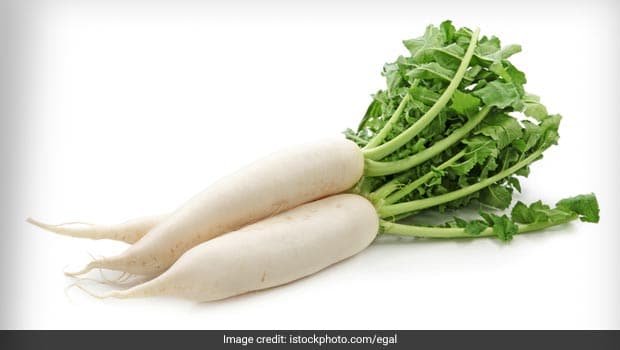 Crunchy and loaded with health benefits, radishes are a lot of fun to cook with. A common winter vegetable in most Asian countries, radishes are also available round the year. Known as mooli in India, every region boasts of many radish recipes.
This long tap root vegetable with sweet and acerbic flavors is commonly used in salads, ground into dips and chutneys, and mixed in the dough to create those steaming hot Mooli Parathas.
The many varieties of vegetables come in different shapes, sizes, and colors ranging from pale white, and yellow to pink, deep red, and purple.
Summer or spring varieties are most popular in the European countries and include the ones like Gala and Roodbol of Netherlands, Sicily Giant from Sicily, Bunny Tail of Italy, Plum Purple, and much more appealing, cherry hued, Cherry Belle. Winter variants are commonly found in Asia and include cultivars like Daikon (primarily grown for oil), Masato red and Masato green, China Rose, China White as well as the popular Oriental radish, Mooli.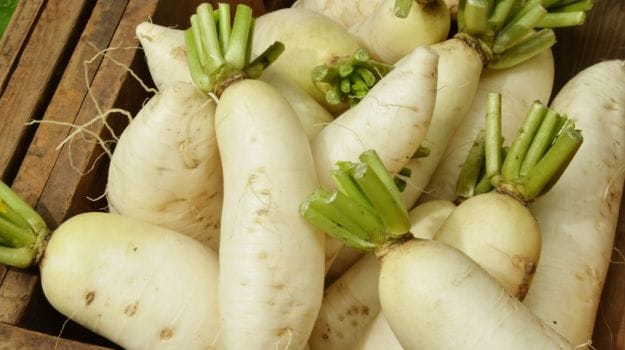 Daikon Radish
Cooking with Radish
Bright red, purple, and pink radishes are not only widely included in cooking for their exquisite flavors and health benefits, but also to add drama to the preparations.
From its root to its fruits and leaves, the entire plant is edible and can be used to create a range of delicacies. The vegetable is commonly used in salads, dips and accompaniments, soups, curries, and a lot more.
People in the Netherlands prefer cutting a thin slice of their indigenous varieties, and adding them atop buttered bread; it is served as a popular breakfast option in the country.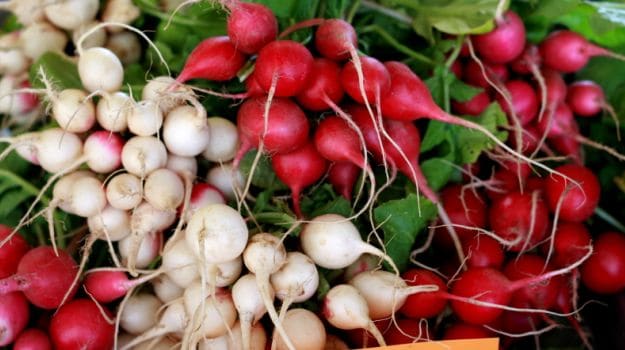 Types of Radishes
Health benefits
Regular radish consumption promises health benefits manifold! Most of us would remember reluctantly drinking raw radish juice to cure jaundice.
The vegetable acts as a cleanser and disinfectant of harmful toxins present in the liver, thereby facilitating the treatment of jaundice.
Not only this, radish comes packed with antioxidants and many essential nutrients that may treat and help manage many ailments. They are enriched with Vitamin C, potassium, and folic acid, and have anti-cancer and anti-carcinogenic properties.
They are rich in fiber, hence aiding in digestion, and easing conditions like constipation. Radish consumption has also proved beneficial in relieving cough, cold, and flu due to its anti-congestive properties.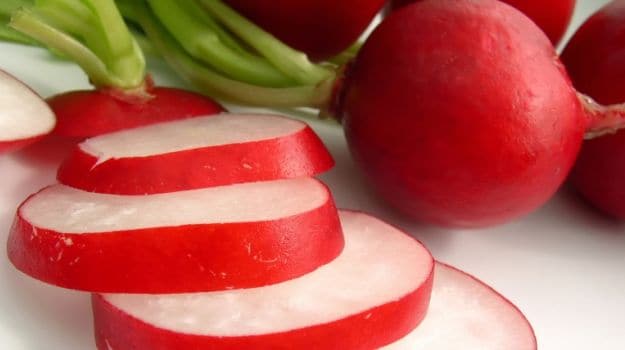 Sipping on raw radish juice along with rock salt and a dash of black pepper is considered beneficial in treating conditions like diabetes, high blood pressure, kidney and liver-related issues, and skin disorders.
Packed with Vitamin C, radish helps in maintaining a healthy metabolism and strong immunity.
How to Buy and Store
Always opt for the ones that have a smooth body without any discoloration, insect infestation, cracks, or bruises. The vegetable should be cleaned properly before storing and consumption.
Entire vegetables can be stored for up to a week in the refrigerator. You can also separate its leaves from the body and store them separately. Leaves should be cooked and consumed as soon as possible because when removed from the body they experience nutrient loss.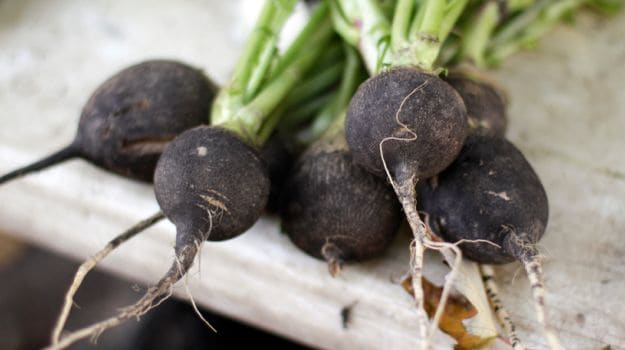 Black Radish
The rest of the vegetables can be wrapped in a plastic bag and stored in the refrigerator for up to 10 days. We admit cooking with radish can be a little tricky; the sweet ones are much appreciated by the Indian palate vis-a-vis the acerbic ones.
Many feel reluctant to experiment with this wonderful veggie and lose out on an opportunity to savor a sea of sensational delicacies.
Just in case you have resolved to take up the challenge and surprise your loved ones with something beyond mooli raita and paratha, join us! We have got recipes from our best chefs that will not only wow your taste buds but also make you fall in love with this underrated veggie.
Recipe by Chef Vicky ratnani
Chef Vicky ratnani brings to you a heartwarming, soul-soothing soup made of radish, celery, and vegetable stock along with tofu cream, orange juice, and honey.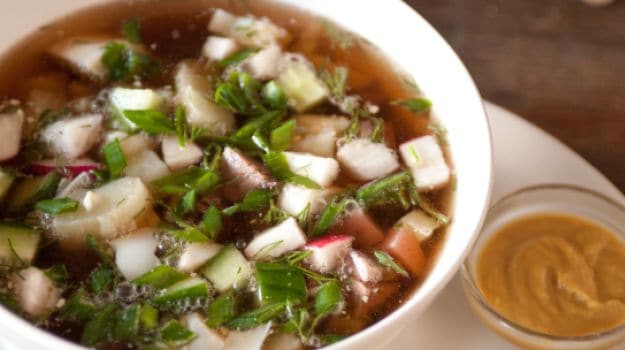 Recipe by Chef Aditya Bal
A local specialty from the Garhwal region including crushed potatoes and indigenous radish root (pahadi mula) curried to perfection.
Recipe by Chef Aditya Bal
Aditya sets up his kitchen overlooking the hills of Sanasar and tosses up a finger-licking Kashmiri curry. This mutton curry has masalas in abundance and goes best with some steamed rice.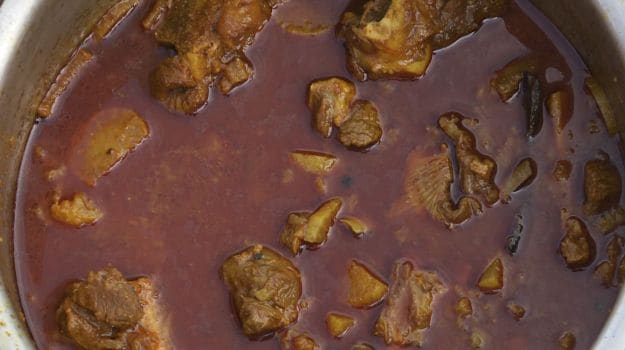 Recipe by Chef Vicky Ratnani
A quick and easy way to satisfy those gnawing hunger pangs without consuming any calories. Little balls are scooped out of melons and served along with delicate radish ribbons, mint leaves, and rocket leaves.
Recipe by Chef Niru Gupta
Straight from the kitchen of Chef Niru Gupta comes our all-time favorite mooli parathas. Finely grated radish, mixed in the dough, spiced up, rolled out, and cooked to perfection.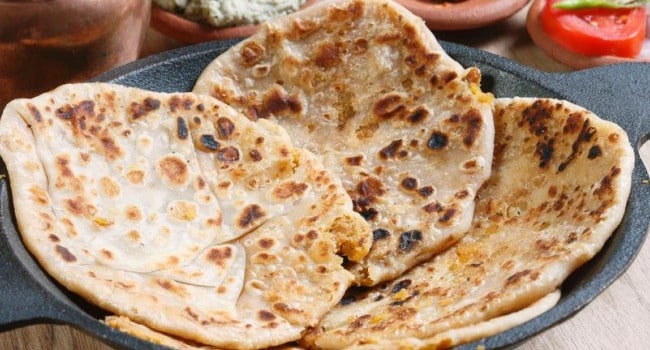 Recipe by Chef Niru Gupta
Here's a simple, fuss-free curry recipe teaming radish with basic spices. A speedy fix for your unplanned weekday lunch.
Recipe by Nishtha Asrani
10 minutes and you will be done preparing this radish chutney. Team it with those piping hot tea-time snacks and relish the extraordinary.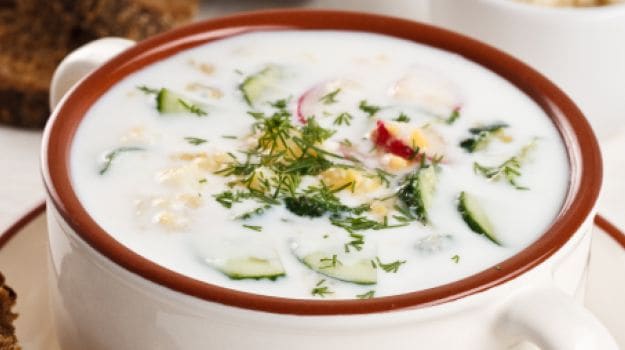 Recipe by Chef Vicky Ratnani
A speedy, fuss-free salad made with fresh pineapples, radish, onions, cucumber, and coriander leaves. Add a little drizzling of salt, pepper, chaat masala, lemon juice, and extra virgin oil and you're done.
Recipe by Chef Vicky Ratnani
Cucumbers, ivy gourd, and radish are marinated in a luscious mixture and served with red pepper pesto.