32 Vegetarian Super Bowl Recipes – 2023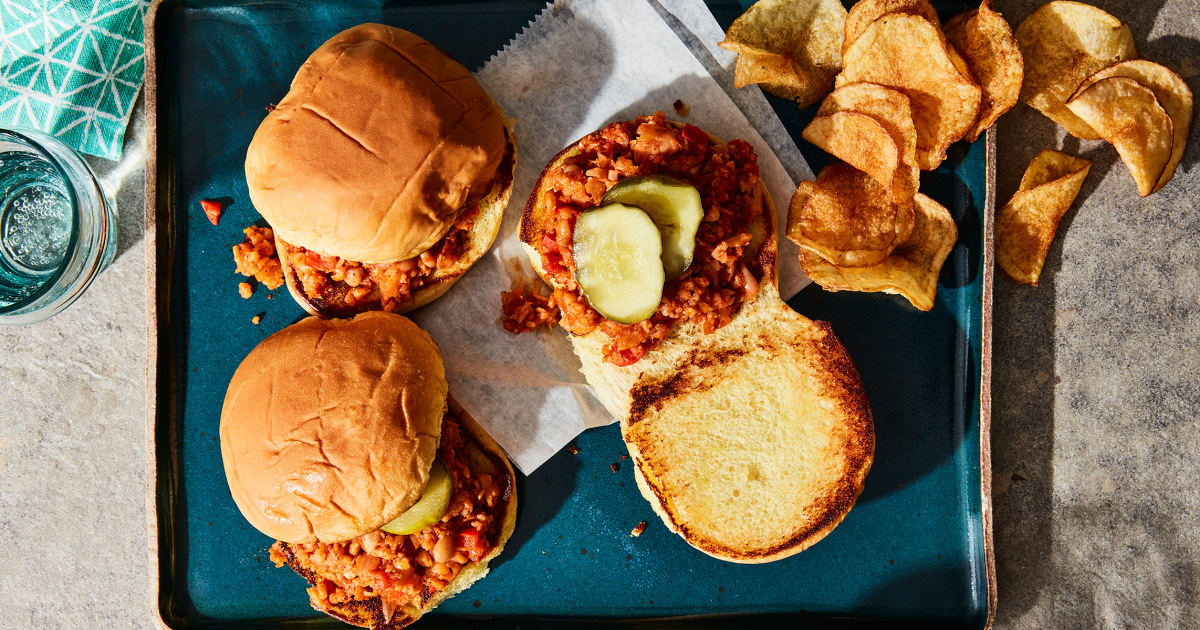 Need some vegetarian recipe ideas for the Super Bowl? We've rounded up some of our favorite meatless mains, appetizers, and snacks to ensure your game-day spread is scoring all the touchdowns.
Nowadays, more and more people are dipping their toes into the plant-based lifestyle, and with so many delicious food traditions and recipes out there, it's easy to see why. You don't have to be vegan or vegetarian to crave foods without meat and/or dairy. And if you're hosting a Super Bowl party, you want to make sure your spread accommodates all types of eaters. It's an exciting challenge.
What does that look like? Well, it can mean doubling down on favorites. For example, make two piping pots of chili, one that's a meaty version and an all-bean option. Or when making tacos, provide pulled pork for the filling as well as mushroom "chorizo." Make Buffalo sauce to slather on both chicken wings and crispy cauliflower florets.
That way everybody is happy! It can also mean ensuring there are both vegetarian and vegan recipes if you have guests that live various plant-based lifestyles, or just whipping up a wide selection of Super Bowl appetizers and mains that give plenty of options to eat lots of meat or none whatsoever.
Whichever recipes you choose, whether you're cooking for strict vegans or are just looking for the best Super Bowl recipes possible, take a look at these irresistible ideas. We've got snacks, appetizers, and the main event (you know, the one on the table — not the screen).
Vegetarian starters and snacks
Inspired by classic In-N-Out Animal-Style fries, which are covered in cheese, mayo, and onions, this recipe is as satisfying as the original but without the egg-based sauce. The fries get extra crispy in the oven (or you can air-fry them!) and drizzled with the secret sauce on top with some caramelized onions and cashew cheese.
A hot, crispy shell surrounds this wonderful mix of veggies and cabbage in these scrumptious egg rolls. They're perfect to serve as a leadup to the main event or to have amongst a spread of smaller, munchable plates.
When a craving for something like popcorn chicken strikes, whip up a quick batch of these vegetarian-friendly poppers made with cauliflower. Dredged in egg, breaded in gluten-free almond meal, and tossed in warm, flavorful spices, these bite-sized florets are irresistible when they come sizzling out of the oven.
It's not a party without guacamole. Serve as a snack with store-bought or homemade tortilla chips or scoop it over a big pile of nachos.
If you have good tomatoes, nothing could be simpler or better than a fresh salsa to dollop onto tacos, serve with grilled meat and fish, or just scoop up with chips.
Dress up store-bought hummus with black olives, chopped red onion, paprika, and fresh herbs. Spread it across a cutting board and serve with fresh-cut vegetables and crackers for easy dipping.
Anything sweet and salty is a winning combo, but this appetizer also offers some crunch. The briny cheese, nutty sesame seeds, and spicy dipping sauce are an irresistible combination of flavors and textures.
Kelewele is a simple and quick side dish of spiced and fried plantain, and a common snack available from roadside chop bars and street-food vendors across Ghana. There are several variations across West Africa but it can be as simple as marinating the plantain in a mix of very finely chopped onion, grated fresh root ginger, chile flakes, and salt.
Roasting is Gaby Dalkin's favorite way to make vegetables! Here are a few simple things to keep in mind when you're roasting cauliflower so they're as crispy as possible: You need ample room on the baking sheet, don't skimp on olive oil, and roast until everything is caramelized on the edges.
As easy as it is cheesy, this hot, creamy, and spicy cheese dip comes together right in the slow cooker, so you can focus on other Super Bowl party prep. Serve it with chips or veggies for the perfect vegetarian appetizer.
This creamy onion dip can be made easily without resorting to packets of artificially flavored powdered soup mix. It just takes a little patience to let the onions cook to a rich, caramelized golden brown. This delicious dip is well worth the wait and can be made ahead of time.
Craving something crispy coated in Buffalo sauce, but don't want wings? Don't want the stress or mess of frying? This is your recipe.
These salty, crispy and cheesy bites are just plain addictive. They're also wildly easy to make. Simply wrap dill pickles in sliced Havarti cheese and an egg roll wrapper, then pop them in a deep-fryer until crispy.
Skip the frozen Tater Tots and make your own using nutrient-rich sweet potatoes — you won't regret it.
This veggie-packed dish is light and fresh — in contrast to your usual Super Bowl fare — and will leave everyone wanting seconds.
This vegan take on queso is totally creamy, spicy, and savory. Soaked cashews give this dip its velvety consistency while a roasted jalapeño gives it a smoky kick.
Heartier vegetarian mains
This is Gaby Dalkin's favorite vegetarian dinner, she says, because it's so easy, everyone loves it (including meat eaters), and it makes for excellent leftovers.
This recipe is inspired by three Italian classics (chicken Parm, sandwiches, and garlic bread), but with a meatless twist. The garlic bread provides incredible flavor and crunch, plus the eggplant is hearty and delicious, making this a speedy yet exciting dish for entertaining or a casual night in.
This recipe is low-maintenance, so you can put it in the oven and focus on the game (as long as you set a timer to remind yourself). There's something comforting about digging up the thick pieces of lasagna noodles smothered in garlicky red sauce — your guests won't be able to get enough.
"I've always loved pepperoni pizza since I was a little kiddo and I have been itching to develop a simple plant-based pepperoni substitute for years!" says Gabrielle Reyes (aka One Great Vegan). "The meaty mushrooms really soak in the full, robust flavor, and since it is hard to find a fierce plant-based and gluten-free bread these days, I am obsessed with these beautiful bagels."
Re-create a drive-thru experience at home in a totally vegan way. These veggie taco "su-primes" are an ode to Priyanka Naik's childhood spent going to Taco Bell and indulging in fully loaded crispy, crunchy tacos.
This vegan-friendly pizza is quite the crowd-pleaser. It's an easy base to add to, as well, in case you're one of those people who eat pineapple on pizza and want to see how it goes with veggie meatballs. And don't get saucy, that's cashew cheese … not real mozzarella!
Hearty lentils and meaty mushrooms take the place of animal protein in this rich chili. This healthy swap makes the dish so much better for you without leaving out any of the satisfying flavor or comforting texture from this cold-weather classic.
If you've got veggies in your fridge you don't know what to do with, you can always throw them into a quesadilla. Just sauté them, stuff them into an extra-cheesy quesadilla and grill it until it's crispy. That's it.
This vegan main is hearty with a capital H! It's kind of like a cross between tacos and mac and cheese — so definitely make it for your hungriest of friends and family members and dare them to say vegan food isn't filling.
This "chorizo" crafted by Beyoncé's nutrition coach, Marco Borges, is created with umami-filled mushrooms. Stuff it into tacos, top fries with it, and load it into a sandwich — the world is your oyster (mushroom)!
Sunny Anderson's black bean burgers are so hearty and satisfying, it's easy to forget they're not made out of beef. Oatmeal helps bind the burger and also adds bulk to the patties. Bean Appetit!
Loaded with beans, quinoa, and veggies, this Mexican-inspired stew is guaranteed to have your guests going back for seconds — plus, it's vegan if you omit the cheese garnish!
This recipe is so flavorful and hearty despite lacking meat. It's a touchdown for hosts looking to serve a big spread of sandwiches, chips, dips, and salads for a large group.
Not only does this chickpea burger hold together beautifully, but it's also packed with plant-based protein and travels well. Slather on the special sauce and enjoy it happily while watching the big game.
Veggie chili is perfectly chunky, rich, and filling — no need for meat. Take it to the next level by serving it on a cornbread crust. That way, people can eat it with their hands.
This vegetarian lasagna, which is bubbling with gooey cheese, is Al's genius (and delicious) way to pack lots of vegetable servings in one super-satisfying dish.